We are staffed entirely by volunteers, so 100% of every donation is dedicated to animal welfare. Your money goes to pulling animals from shelters, very often just in the nick of time, food, shelter, and medicine, spay/neuter programs, emergency help and so much more. No donation is too small. All donations are fully tax deductible.
Donate to Tails of Joy
You can make a single donation in the amount of your choice, or set up a recurring monthly donation.
Note: You do not need a PayPal account to make a one-time donation. On the PayPal landing page, look for the tiny link that says "No PayPal account? Pay using your credit or debit card" and follow the link. Easy!
Add a Note to Your Donation
If you are donating in someone else's name please put their name and email address on the PayPal donation form so we can let them know. We never mention the amount. Click on the little "+" next to "Comments to Tails of Joy."
It will open up a text box like this for you leave us note:
One-Time Donation
Click on the paw to make a single donation in any amount you choose: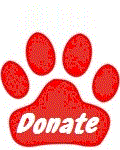 Monthly Donation
Set up a recurring monthly donation at one of these preset levels.