Happy Summer Everybody! We hope it was a fun and happy one. Time to check in again and show you how your generosity and support help us save so many lives all year. We thank our monthly donors, and all our donors, and we thank everyone who donated to Elayne's Birthday Wish this August (It's not too late). We hope you enjoy all the happy stories YOU made possible.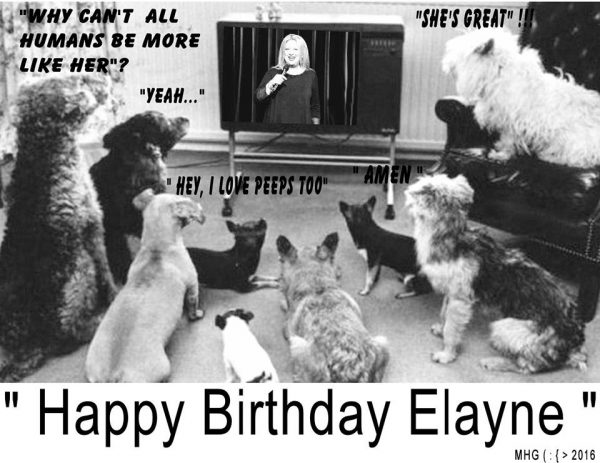 Ralph's Market Sign-Up
September 1st means it's time for our CA Peeps to re-enroll in the Ralph's Markets Community Contributions Program for Tails of Joy. This year it's easier than ever, and we are thanking you with our best selling "Love Laugh Woof" double charm, absolutely FREE! when you sign up. Find out how at the end of this newsletter.

Someone decided to throw six six-week-old puppies away. A volunteer for Vidor Animal Control in Texas found the puppies, then searched for a rescue or shelter who could take them in. The Houston Humane Society agreed to take them in if someone could pay for spay/neuter, vaccines, etc. The volunteer, Hannah, then found us, and we sponsored the puppies. Sadly, two of the puppies died of parvo, but the rest are healthy and happy. As an added smile, we sponsored them in honor of "Pay It Forward For Don Shepherd Day", which our Peep Kelley Lynn created to honor her animal – loving, deceased husband's memory. And that's what you call networking.
Louisiana Flood
The good news about the flooding in Louisiana, if that can be said, is that unlike during Katrina, this time the state understood how much people's pets, and animals in shelters, meant to everyone. This time instead of abandoning pets and saving only people, there was/is a large concerted effort to also save the animals of Louisiana. Tails of Joy made an immediate Little Guy Grant to the Denham Springs Animal Shelter, and continues to help all the groups we can, who are doing the hands on rescue work there.
Dogs on the Move – Pawsitive4LIFE
We are always happy to help Dogs On the Move – Pawsitive4Life. All year long, they work to get dogs out of overcrowded MDAS shelter in Miami, and then several times a year, they drive a ready group to greener pastures across the country, where they can get adopted. Expenses include pull fees and boarding until a transport leaves, all medical care necessary before they go, truck and travel and people expenses in both directions.
Wildlife SOS – Help Buy Land For Rescued Elephants
"For captive elephants in India, space to roam is practically unimaginable. Tethered in the same place for hours, for many of them their lives are restricted to the inside of a circus tent, or the chain fixed firmly to their feet, that restricts even the most basic movement."
"At the Wildlife SOS Elephant Conservation and Care Centre, we strive to give our amazing rescued pachyderms a taste of the freedom they would have experienced in the wild, and the biggest part of this is space to roam.  In the wild, an elephant will roam anywhere between 7 – 13 miles in a single day! Land plays such an integral part in the elephants' lives and their recovery from the trauma and abuse they have suffered. Unfortunately, our finances are being stretched to the maximum to maintain and manage the land we have. In addition, ECCC is steadily reaching full capacity. To enable us to rescue more elephants in need, and give them the freedom to roam that has changed the lives of our elephants so dramatically, we have found an ideal piece of land to expand the facility. It's beautiful, and perfect for our elephants – more space for the ones already in our care and a new, safe home for the abused elephants out there that still need our help."
Tails of Joy helped.
Everybody Loves Our Bling!
We love when people are so happy with their Tails of Joy jewelry orders, they post pix all over the internet, and we find them. Another happy customer. Remember, 100% of all sales goes to animal rescue. Shop here.
DASH (North Dallas Dog Rescue)
"Dear Elayne,
Gus's front right leg was shattered by a gunshot wound – yes, from being on someone else's property 🙁 Owners left him there to die, some KIDS found him & brought him to the shelter.
Working as hard as I can on our page but we are against the clock on TWO issues – dog stayed in shelter too long w/o better Medical exam, and is developing a secondary infection, and our ortho surgeon, first choice & best price, is leaving Wednesday night for a conference.
Grasping at straws but THIS LITTLE GUY NEEDS HIS AMPUTATION ASAP – if you can help…"
We did.
And during the last few months we also helped DASH (North Dallas Dog Rescue) with:
A mama and eight injured/sick puppies from a criminal investigation.
Rocky – a pit mix pup in medical boarding.
Blue Heeler pups dropped out of truck.
Emergency boarding, heartworm medicines, spay/neuter for all these beauties below:
From Sara at DASH: "Thank you so much for all you do to help us save more dogs. TOJ is the difference-maker for so many lives here. Whether it helps one major medical expense get covered or a litter of puppies get saved the donation means freeing up other funds or helping a dog become healthy, thus facilitating room for more dogs, more adoptions, more lives saved.
 All of this is invaluable and truly rescues Human Hearts throughout all our cooperative work.
So Much Love & appreciation for your generosity,
Sara & The DASH Pack"
Pacific Coast Dog Rescue
Deja's Vet Bill
Wildlife Waystation
The Wildlife Waystation is celebrating 40 years of providing rescue, healing and safety for animals in need. Since 1976, WW has helped more than 76,000 abused, abandoned, orphaned, and injured animals. These include Siberian and Bengal tigers, lions, leopards, ligers, jaguars, mountain lions, wolves, coyotes, camels, primates, hyenas, bears, foxes, reptiles, exotic birds, birds of prey, and more.
They house over 400 wild and exotic animals on a refuge in the Angeles National Forest. When the fires across southern California got too close this summer, they were forced to evacuate over 300 animals. That's when TOJ made our first donation of this year.
Then the Wildlife Waystation held a raffle to raise funds: Win a tour and have dinner at their magical property, with Shelby and Tommy Chong. Wanting to donate more, we bought some tickets. We were one of the winners, and a great time was had by all. We highly recommend you thinking of the Wildlife Waystation for special events you may have coming up, for your yearly giving, for anything that will help them provide millions of dollars a year just in food costs for these huge mouths they must feed every day. Volunteer!!! You can help with these amazing animals every weekend! Special thanks to Rowdy the Capuchin monkey for picking our winning ticket! After dinner, Tails of Joy was pleased to present the WW founder, Martine Colette, with a Little Guy Grant.
Valley Cats, Inc.
Valley Cats opened the best "store" in a West Valley, CA, mall. They built and designed and configured a cat fantasy at their own expense, to get more cats adopted by the public. Then they lost their lease and their beautiful place. Well, they found a new place to meet the public, and Tails of Joy was happy to donate to that too. If you're in LA, the new Grand Opening is October 9th.
St. George Pet Rescue — Adrianne's Angels — Mt. Carroll, IL
Posted on Facebook: "Elayne Boosler – TAILS OF JOY… just made a donation to the Emergency Kitten fund. Everyone please "like" her page. She is a true animal advocate!" (That page:  Tails of Joy Group on Facebook. Fill your day with smiles, laughs, caring, sharing, and everything wonderful about having pets and loving animals.)
"Wyatt, Sundance and Clementine went to the Vet today thanks to the donations from caring people. They are sound asleep now and letting the antibiotics do the work.  One more thank you out to Elayne Boosler, Tails of Joy for their greatly appreciated donation."
Adrianne's Angels had 10 sick kittens who needed to be cleared of infection, then spayed/neutered. We helped get it done.
Canine Crusaders – Redondo Beach, CA
Canine Crusaders emailed: "Does anyone know of any organization that helps low income families with giving out flea and tick meds? If not can anyone help donate some or donate money to buy a bunch for them?? People are throwing dogs over our fence and the flea infestation is bad."
Done!
Available for adoption from Canine Crusaders:
Edith and Julie's Spay Neuter Fund at Tails of Joy
We once again thank our FB Peep Donna Zeigfinger for introducing us to her friend Julie, who wanted to make a bequest to animal rescue before her impending death. We are so proud we are using Julie's bequest exactly the way she wanted, our only regret being we didn't get to enjoy her friendship longer. This quarter we happily made spay/neuter Little Guy Grants from Edith and Julie's Spay Neuter Fund to:
ACT (Action Coalition of Tampa)
LOW COST SPAYS, NEUTERS, VACCINES, MINOR HEALTH ISSUES
ACT's vision is a community where dogs and cats are safe and treated with respect and value.  ACT offers low cost ways to accomplish this vision.  The results are not only good for the community, but also for the owners and their pets.  Spay and neuter; it's the choice that saves lives. ACT's mission is to end euthanasia as a response to pet overpopulation by providing affordable and high quality spay and neuter surgeries.  ACT also offer other affordable wellness services in order to keep pets in their existing homes.
Paws and Love
Paws and Love: "We take in at risk cats and have them spayed/neutered, combo tested for FIV and FeLV, and then they receive their rabies and other vaccinations. They are then released into a safe environment where they are provided with quality food, medical care, shelter, and lots of love. Some of our cats are well socialized and can be adopted, or remain with their colony mates. Others have had limited or no human contact and they prefer to live a feral life, which is perfectly fine with us.  We also take in community cats that are abandoned or homeless. Many of these are kittens that have been dumped or orphaned."
Margie Geeb – Chillicothe, OH
Our own FB Peep Margie Geeb, who feeds, cares for, traps feral cats in her neighborhood, one at a time, and takes them to the vet to be spayed, neutered, vaccinated, and treated for whatever they need. We pay the vet directly every time. Margie embodies what we do; help the smallest neediest rescue groups and people making a difference, who prove that one person can do so much. Though disabled and without her own transportation, here is a woman who has spent her life making life better for cats on the street.
More from Edith and Julie's Fund
We made spay/neuter donations for many, many, many individual cases across the country.
My Way Home Dog Rescue — Sandy, OR
So far My Way Home Dog Rescue has saved 207 dogs from shelters in five years. They always make sure to include seniors, whom we love, and special needs dogs, whom we also love. We were happy to help a bit.
Linda Blair Worldheart Foundation
We are always happy to help Linda's fantastic organization a few times a quarter. She does so much for the large, misunderstood breeds, like American Bulldogs and Pitties, and can always use your help.
Only for the animals would Bill and I have driven through the California wildfires to Lancaster, for a fundraiser for Linda Blair World Heart Foundation, at the Lancaster Moose Lodge.
Elayne and Linda
Leash Animal Rescue — Los Angeles, CA
Leash Animal Rescue sent this plea for July 4th:
"DONATIONS NEEDED TO HELP SHELTER ANIMALS OVER 4TH OF JULY WEEKEND!
LA Animal Services (LA City Shelters) is asking for foster homes to step up and foster dogs & cats for 4 days over the 4th of July weekend, to make room for the influx of animals to be impounded due to being spooked by fireworks. Due to shelters already being overcrowded, when these new animals come in, animals who have been there for a while have to be killed to make enough room!
Our rescue does not have any available foster homes or room to take any animals in; HOWEVER, we are offering to board some shelter dogs and cats at local vets to help empty some kennels. If we can get more funding for this project, we can help more animals!"
We made a Little Guy Grant.
Street Paws -– McDonough, Georgia
Sometimes you get overwhelmed with too many animals at once. And sometimes you're saving up to have a real shelter. Little Guy Grant made.
Currently available at Street Paws rescue:
We are always happy to help this wonderful organization as often as we can. Big mouths to feed mean big money needed.
Always happy to help our friend Pat Bonham's excellent rescue organization. They find abandoned "border" dogs in awful shape, and do the best work in bringing them back to life and hope.
Otis and Princess
Sometimes rescuers need help too. So we helped these two pugs get the medical attention they need while their mom gets back on her feet.
Animal Friends of Westmoreland — Youngwood, PA
We love helping this excellent shelter every time we get the chance. If you're nearby in PA, they have a nice event coming up on October 21st.
"The Animal Friends of Westmoreland is committed to the vision of a no kill shelter and being a voice for those who cannot speak for themselves. Our mission is to help abandoned, abused and neglected animals and our passion is to educate the public to spay and neuter, to spread awareness on embracing pet adoption and to inspire others to become animal advocates. Join us and be a voice…
Candy Nelson, Founder/President"
Critter Camp Exotic Pet Sanctuary
We are always happy to donate to Critter Camp for all the great work they do. And now, you can buy this great new book written by Beth Randall, who runs Critter Camp. Proceeds benefit the animals, and it's a great book for giving.
And speaking of wonderful books:
Crumb: The Secret of the Riddle by Carol Worthey.
Carol Worthey, our dear Peep and collaborator on our symphony piece, "Rescue – a True Story", has written the most wonderful book. "A rollicking good story and an epic allegory about the "little man" caught in the greedy machinery of today's world, hungry to make a difference. This far-flung fantasy adventure tale for the Child Within Us All unites a resourceful eight-year-old girl Zoe with mischievous Crumb (an orphan breadball raised by wise Breadbox and taught to read), Nefertiti the cat, Whisk the Dog Whiskerer, and a brilliant Bee in a quest to solve a Riddle that might help to save our endangered pollinators! Fusing mystery, childhood wonder, passionate concern for our environment and sheer poetry, CRUMB The Secret of The Riddle promises to keep you turning pages."
It's GREAT!  To order.
Paws Ranch Rescue had a big auction in August, and we were happy to send a lot of goodies to help them raise funds; from our great Tails of Joy bling to hand made cat/dogs purses by our own Judy Isaacs.
GOOD NEWS:
In 2015 we placed 387 dogs and 105 cats in their forever homes!
We took in 394 dogs and 86 cats.
We currently have 313 dogs and 76 cats at the Sanctuary.
We spayed/neutered 507 animals!
We would like to thank everyone who has been so supportive by adopting, sending donations, and by helping in so many other ways. Your continued support is what keeps our gates open! -Baja Animal Sanctuary
It's Ralph's Markets Sign-Up Time again in Southern California!!
Starting September 1st 2016, we ask our CA Peeps to again link their Ralph's Rewards cards to Tails of Joy. It's part of Ralph's Community Contribution Program, and we want to be your chosen charity. That way, every time YOU shop, Ralph's donates to US at NO cost to you. This is a very important part of our yearly budget, so please sign up today! Even if you've signed up before, you must sign up again every year, starting each September 1st. Sign up now and you'll be enrolled for an entire year.
This year to thank you, we will send you our best selling "Love Laugh Woof" double charm, absolutely FREE! A $20 value, free, including free shipping.
The back reads: From Tales of Woe to Tails of Joy Elayne Boosler's tailsofjoy.net
And now it's SO EASY to enroll:
You need a Ralph's card, linked to your phone number.
Call 800-443-4438. Wait on hold forever. Do NOT hang up darn it! Wait!
When someone finally answers, say you want to link your Ralph's card to a charity, Tails of Joy. She/he will ask for either your Ralph's card number, or your phone number that it is linked to.
She/he will then ask the ID Number of the organization (Tails of Joy) you are linking to. Our ID # is 83531.
She/he will say, "You're enrolled".
That's it! Send a phone pic of your first receipt bottom (it will say "Benefitting Tails of Joy" at the bottom) to elayne@tailsofjoy.net and I will personally send your charm out to you.
Get three more people to sign up, and we will not only send them our double charm, YOU will be able to choose ANY bracelet or tag/charm from our website that you would like, all absolutely free, including free shipping.
We need this. Thank you very much in advance.
How We Can Help You: Get Your Money Back!
So many Facebook and Twitter peeps have been having financial pet emergencies and coming to Tails of Joy for help. We always do what we can, but the first thing we do is this: If you need financial help for your pet, we refund every donation you ever made to us for starters. So in essence, you can use us as your pet savings account. We've been here for fifteen years and we will be here if you ever need help for your animal in the future. The more you help others, the more help there will be for your pet if the need ever arises.
Thank you Rory Murray, friend, artist, and fellow rescuer.
THANK YOU!!!!!!
We can only save animals and make lives better for people and pets with your help. We also want to truly thank our monthly donors, who make it possible for us to plan ahead and keep going. We love you. If everyone signed up for one, five or ten dollars a month, we'd be able to save and plan and save and plan and… well, you get the idea. Donate! Nothing is too small. A one dollar donation from a few thousand people is a few thousand dollars.
Shop
Shop Tails of Joy first. We're always listing new items, and 100% of the price goes to rescue animals. Again, thank you so much for loving, and being kind to, animals. Wishing you and yours a happy and wonderful autumn.
"Weiner is coming.." -Game of Bones.