Dear Peeps,
You have made an extraordinary, positive impact on the lives of needy animals this year. Thank you!
Thanks to your generosity, Tails of Joy was able to help hundreds of animals in 2013. From medical treatment, to transporting them to safety, to saving lives in the nick of time, to finding happy new forever homes, to networking and advocacy, we were there. We are proud to share below some of the beautiful stories your generosity made possible this year.
As you know, we are an all-volunteer, non-profit 501(c)(3). No salaries or financial "perks" are ever taken from your donations, which means that unlike the big organizations, 100% of every dollar you donate or spend with us is used to save lives. All donations are tax deductible and even the tiniest amount makes a difference, so please don't be shy if you can spare just a little.
Can you make a year-end, tax-deductible gift that will help animals in 2014?
[button link="https://www.tailsofjoy.net/donate" size="large" bg_color="#E5322B" ]Donate Now[/button]
Tails of Joy helps save dogs, cats, bunnies, wildlife, horses, burros, sea life, big cats, farm animals, exotic critters, and even bears and elephants. Sometimes we're hands on, and sometimes we help by making our Little Guy Grants to the local rescue organizations already on the ground.
When you support us, you are actually supporting scores of small rescue organizations that get the most bang for your buck, already vetted by us. And we always follow up so you can enjoy the happy endings made possible by your kindness.
With your help, we'll give even more homeless and needy animals a second chance at life
 in 2014, a life free from fear, cruelty, pain and hunger. We couldn't do all we do for animals without you.
Please help us do even more for animals in 2014 by making a year-end, tax-deductible gift today.
[button link="https://www.tailsofjoy.net/donate" size="large" bg_color="#E5322B" ]Donate Now[/button] 
Together we can make 2014 a great year for animals. As always, I'll keep you updated throughout the year, with the pictures and stories of the lucky animals you help save.
Wishing you and yours happiness, joy, peace, love, and pet hair on all your black clothes.
Love,
Elayne Boosler
elayne@tailsofjoy.net
Thank You to all our great supporters who, with their donations and purchases, helped us help so many deserving, needy and sweet animals with our Little Guy Grants this year. Some of these organizations received first time "Little Guy Grants", some rescues received repeat donations during the year.
We also directly paid veterinarians in different states for every kind of medical treatment for needy animals. And sometimes, just networking, taking the time to care, and share photos and available animals on social media, helped some animals find their forever homes. Networking works. We can do it only with your support. Thank you.
Here is partial list of those we helped this year:
Kiss a Bully Rescue
Kinder4Rescue
Be Kind to Animals Rescue
Stray Cat Alliance
Saving Strays and Shelter Pets of Rural Texas
Paws Ranch Rescue
Save the Texas Pitties and Piggies
Cincinnatti Pit Crew
Bail A Tail Rescue, Tujunga CA
Forte Animal Rescue, CA
Rescue Unwanted Furry Friends (RUFF), Graceville, FL
The Gentle Barn, CA
STICKS Rescue Organization, S. Carolina
One World Sanctuary, Thailand
K9Kastle, NY
Hearts and Hounds Rescue, Schererville, Indiana
Miami Dogs on the Move and Pawsitive4Life, FL
Wee Paws Sanctuary, Nevada
Beauty's Haven Farm & Equine Rescue Inc., FL
Baja Animal Sanctuary, Mexico
DASH Dog Rescue, Dallas
Mutt Match LA
The Rat Retreat, Idaho
Linda Blair Worldheart Foundation
Bunny World Foundation
…and all these in Ohio:
Greater Ohio Boxer Rescue
Luv4k9s
Sacred Heart Animal Rescue
New Beginnings Animal Shelter
OLEKA (Ohio Law Enforcement K-9 Association)
Sanctuary For Senior Dogs
A Few of the Cutie Pies We Helped This Year
Click on any of these thumbnail images to view as a full-size slide show.
Up Close and Personal
Bail A Tail Rescue, Tujunga CA.
Bail A Tail Rescue in Southern California has saved so many dogs and cats, also taking in the seniors and Pitties. They never give up, no matter how long it takes to find the perfect forever home.
Rescue Unwanted Furry Friends (RUFF), Graceville, FL
RUFF has saved over 2,200 dogs since 2004. They were severely negatively impacted by the BP oil spill, and recent bad weather and flooding. They are now at 1003 Hwy 173 Graceville, FL, above Panama City Beach, Florida and below Dothan, Alabama. They will drive any dog to meet you in those areas and cities. Also, check out the Ruff House Thrift Store at 127 Miracle Strip Parkway in Fort Walton Beach, FL 32440. Please support this long time, dedicated rescue organization, so needed where they are.
Hay for The Gentle Barn
Our Little Guy Grants helped buy hay for some of the 170 animals (horses, cows, sheep, goats, and llamas) at The Gentle Barn, when the west coast fires and drought drove up hay prices.
Helping NYC Shelter Animals – Matching Grant for K9Kastle
We helped K9Kastle with a donation in its bid to receive a matching grant towards an adoption and housing center for animals saved from NYC's high kill shelters. K9Kastle is based in Manhattan and Brooklyn, and saves the less easy to place animals from NYC's kill shelters and streets; the blind, lame, deformed, neurologically impaired, that need special families who can see past their limitations to their unique souls.
Two South Carolina Dogs
We helped STICKS Rescue Organization, run by Nikki Masters in S. Carolina, rescue these 2 dogs who were starved by their owner to the point of not being able to stand. They are now doing well and expected to recover, and find loving happy homes.
Oreo, in Schererville, Indiana
We helped Oreo, who was at Hearts and Hounds Rescue, with heartworm treatments. When she was all better, she was adopted by her foster mother!
Transporting 33 Dogs From Florida to Iowa
We helped Miami Dogs on the Move Transport with 33 shelter dogs going from Florida to Iowa. Jackson Country Humane Society in Iowa has been a great partner in finding these relocated homeless animals forever homes.
Moving Another 21 Dogs in Miami to Safety
Tails of Joy was able to top off the amount needed to move 21 dogs to safety in Florida through Miami Dogs on the Move and Pawsitive4Life, Inc. Learn more about the DOGS ON THE MOVE and how you can become part of the MOVEment:
Dogs On The Move Facebook Page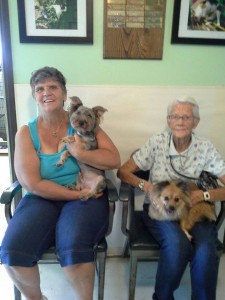 Wee Paws Sanctuary, Nevada
We were happy to once again give a "Little Guy Grant" to Wee Paws Animal Sanctuary near Las Vegas. Check them out, they are cage free, take on the hardest cases, and are totally wonderful. Get your cats here!
Louie!
We helped Louie's adopted dad pay for all the dental and blood work little Louie needed to get him good as new and able to eat and play again.
Bonnie!
We paid for this beautiful young homeless boxer girl to get medical help for a prolapsed uterus, shots, and everything she needed to get healthy and adoptable. What a face!
Squishy!
After capturing this sweet but feral little pittie, it took Tails of Joy a month to get near her. Kathy Warner at the Escondido Humane Society then took Squishy as a very special project, and finally found her her forever home. It truly takes a village.
Beauty's Haven Farm & Equine Rescue Inc., FL
Tails of Joy made a donation to this excellent equine rescue organization, currently reeling with large medical bills for large animals. Please check out the fine work they do at Beauty's Haven Farm & Equine Rescue.
All Kinds of Good Stuff
We helped buy FOOD for Baja Animal Sanctuary, the only no-kill shelter in northern Mexico. We also bought FOOD for the pets of many people in need.
We helped VACCINATE eleven puppies in Texas. We provided lots of MEDICAL CARE across the country by paying veterinarians directly by phone at the time of appointment.
We helped SPAY and NEUTER lots of dogs and cats in Ohio, through the fantastic Angels for Animals organization.

Petopia
We help Petopia with ADOPTIONS. Petopia is a beautiful store in the Westfield Promenade Mall in Woodland Hills, CA, that adopts out cats and dogs rescued from animal shelters, with rescue groups on the premises. That means the groups already know all about your new pet, her temperament, what kind of home he/she will do best in, and have gotten him/her into perfect health before putting him up for adoption. It's a great way to adopt a rescued family member without having to go to a shelter.
Very Special Rescue Events of 2013
December: For the Humane Society of Sarasota County: "Hot Dogs & Cool Cats Gala" was a Purr-iffic Success!
This year's gala was held on Saturday, December 7th at the luxurious Sarasota Yacht Club. The sold out crowd was greeted by three adorable shelter pets, enjoyed great wine, fabulous cuisine and a thrilling live auction that included trips to Lake Como, Italy and Aspen, CO. Local stars Les McCurdy and Ken Sons hosted this evening of hilarity and famous comedian Elayne Boosler, back by popular demand, had the crowd laughing their paws off!
October: "Tails at Twilight: A Furrytail Fantasy" Gala for Escondido Humane Society
We are excited to announce that we have a special guest who will be entertaining all attendees: comedian Elayne Boosler! Elayne also will be available for a meet and greet and photo op at the end of the evening for all VIP guests.
October: "Rescue — A True Story" by Elayne Boosler with the Glendale Philharmonic Orchestra
Music by Carol Worthey. Story and Narration by Elayne Boosler.
Much thanks to Ruslan Biryukov and the Glendale Philharmonic for commissioning this beautiful piece about the life of a rescued dog, and helping save many more in the process.
After "Rescue", with (l to r) Comedian Emo Philips, a friend, me, cellist and Glendale Phil director Ruslan Biryukov, huge friend to Tails of Joy Norm Jacobovitz, composer Carol Worthey, and again, major friend to Tails of Joy, Debbie Jacobovitz.
Annie, our rescued girl who inspired "Rescue – A True Story". Huge thanks to Ruslan Biryukov and The Glendale Philharmonic for their support for homeless animals, and Tails of Joy.

September: Lovitz or Leavitz
In September, Elayne guested on comedian Jon Lovitz' webcast, where Jon helped her get the word out about how great rescued pets are, and about Tails of Joy. His own little rescued pup, Jerry Bruckheimer III, made an appearance.
August: World Elephant Day
World Elephant Day took place on August 7th 2013. People in over 35 cities worldwide marched to draw attention to the plight of the dwindling elephant populations, and to raise awareness of how important it is to "say NO to ivory". Elayne was one of several speakers to address the crowd gathered in L.A.
June: "Wags to Riches Gala"
Benefitting the excellent Animal Protection Society of Friday Harbor, WA. (http://apsfh.com/) Special thanks to comedians Wendy Liebman and Emo Philips for helping to make the event so successful, and funny.
April: Lisa Lisa and Cult Jam Auction Raises Funds for Tails of Joy
Lisa Lisa and Cult Jam, who had a big tour this year, made special VIP ticket packages available for bidding on eBay to benefit Tails of Joy. We thank them so much for their time and dedication to saving animals.

Backstage at Radio City Music Hall in NY, Elayne with Lisa Lisa and Cult Jam, and their manager Stephanie Saraco, who made the whole fundraiser happen.

March: Tails of Joy Fundraises For Ohio Rescue Groups
After each of her shows at Wiley's Comedy Club in Dayton Ohio, Elayne sold after show Tails of Joy merchandise to benefit Ohio rescue groups.
Happy New Year!
We hope you've enjoyed seeing all the little lives you helped us save this year. We look forward to your continued support. And if you ever need help, we're here for you too.
Special Thanks to some of our most generous supporters:
Leon Wagner
John "Hamilton" Hesse
Norm and Debbie Jacobovitz
Brian and Debbie Harris Donushi
Lawrence Rosen
Debra Keeler
Rick Smolke
Julie Gall
Annette Lockwood
R Erwin Spence
Mitzi Szereto
Michael Collins
Laura Desmond
Ellen Rosenfeld
Maggie Van Ostrand
Sol Fleishman Jr.
Debra Crosby
Janet Sullivan
John Richard Peterson and Leonard Niedbalski
Mike Moore
Leslie Hans
Virgal Woolfolk
Bridget Clooney
Lynne Stewart
Paul Caplan-Bennett
Jocelyne AuClair
Muriel B
Marcia B
Bill Siddons
And Extra Special Thanks to our monthly donors. Counting on even five or ten dollars a month makes it easier for us to budget for ongoing needs (spays, neuters, etc.). These monthly donations are a lifeline and we cannot thank you enough for your donations all year:
Lisa-Dianne Gray, Lisa Harrington, Stephanie Falcone, Kathleen Malloy, Linda Bradbeer, Joyce Jefferson, Debra Keeler.
Extra Thank You sauce to our End of Year donors just in: Doug Kleiman, Adrienne Iapalucci, Randall Bratton, Loretta Boal, Jodi Weisberg, Laurie Cicotello, Julie Gall, Chris Reulbach, Lillian Paynter, Anne Culpepper, Christi Farmer, Jane Freedman, Courtney Nanson, Bruce Schiller, Debra Keeler, Jane Kim, Norm Jacobovitz. And Welcome New Monthly Donors Tiel Pearce and Lyn Palmer.
If you live in California, please link your Ralph's market card to Tails of Joy so we can receive donations from Ralph's all year, at no cost to you. Click here to see how.  Once you sign up, we'll send you a beautiful rhinestone paw print pin to thank you.
Please check back often on the Tails of Joy Shopping page, for great and unique items that benefit animals 100% with your purchase. We add new things all the time.
Please support the businesses that support us. We could not do even half as much without their incredible generosity:
Happy New Year Everyone! 
Please help us do even more for animals in 2014 by making a year-end, tax-deductible gift today.
[button link="https://www.tailsofjoy.net/donate" size="large" bg_color="#E5322B" ]Donate Now[/button]
Together we can make 2014 a great year for animals, and their people.
Happy New Year!